In January, I made a wedding cake for these two lovely people.
Meet Samantha and Chas Kelly.  Even if I wasn't related to them (by marriage) I would love and claim them as my own.  (Sam is an amazing artist, by the way.  She has an Etsy shop called Can You Hear Me?  You should check it out.)
I offered to make their cake and hoped they'd say yes.  When they did, I was completely honored and took my responsibility seriously.  I even set up a special blog just about The Cake.  Basically, I had a marvelous time.  Sam had only one instruction–it had to be delicious.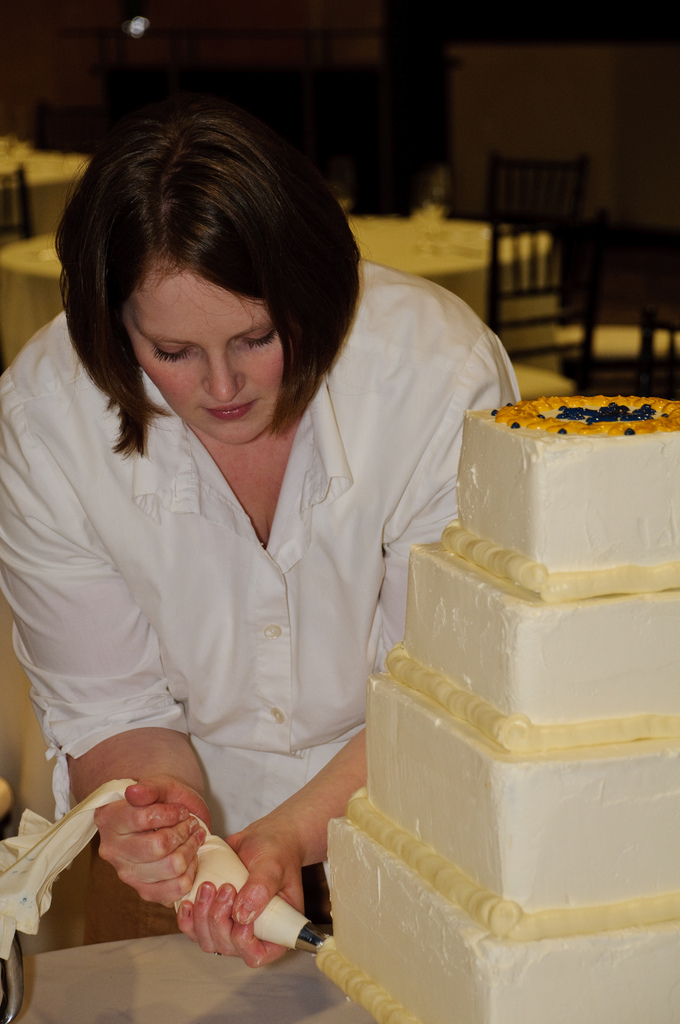 Photo by Jan Dawson
The cake was delicious.  Even though my royal icing cake decorations broke into a million pieces…the cake ended up looking decent enough.  I had to step back and just let it be what it was.  And delicious is truly what it was, if I am allowed to toot my own horn.
The 12″ bottom layer was a coconut cake with a coconut-almond dacquoise (nut meringue) with dulce de leche filling.  The 10″ layer was an almond cake with homemade sour cherry jam filling.  The 8″ layer was one I took some creative license to creat.  It was a lavender-blueberry marble cake with Dorie Greenspan's Lemon Cream Filling.  (I honestly cannot remember what the topmost layer was–I think it was the same as the 8″.)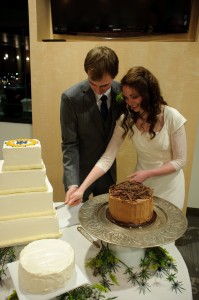 There was a groom's cake that I will be making again and posting since it's such a good cake–chocolate+hazelnuts+caramel pastry cream.  And a side cake–my famous carrot cake.  (It's only famous because it's my mom's very favorite cake and she requests it each year for her birthday.)
This week is another wedding cake.  I haven't been taking on many outside projects lately.  I stay so busy with my kids and activities at church.  My sister's brother-in-law is marrying a gorgeous girl who is a foodie.  How could I say no?
So far we have:
12″ square–pumpkin spice, white chocolate cream cheese filling
10″ square–almond with homemade peach-vanilla bean jam (Ashley's recipe that I bottled in the fall)
8″ square–coconut with dulce de leche (it's too good to not make it again)
6″ square–(a work in progress) something chocolate with marshmallow cream and chocolate ganache filling (layered respectively)
They are having a hot chocolate bar at the reception.  I suggested a few cookies to go along with it.  They will also be serving brownies and cheesecake (I think).  I made three of my favorite Christmas cookies.
*Pfeffernusse (pepper nuts)
*Chewy Ginger Cookies
*Spritz
I'll post photos and recipes of the cake layers and the cookies over the next few weeks.
__________________________________________________________
Don't forget to e-mail me with your holiday party woes.  I will e-mail you back and answer your questions here on ye olde blog.  (Just as soon as the wedding cake is complete.)