I like small gifts under $10. They are a great way to say Thank You or Happy Birthday, and make great gifts to take as housewarming or hostess gifts. Or even just as a token of friendship.
Small gifts for the kitchen are my favorite kind.
Kitchen Hand Soap is fabulous.
I like this
Kitchen Lemon from Bath and Body Works, 3 for $10
!
Other great hand soaps and lotions can be found at Williams-Sonoma
LOVE Crate and Barrel dishtowels. They are pretty and funky and cool. They are inexpensive. And they are good quality.
A few favorites–
I also love this adorable kitchen timer–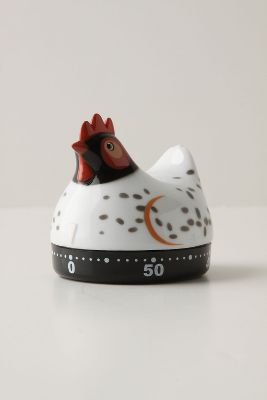 Cock-a-Doodle Timer from Anthropologie, $10
Perhaps a bit non-traditional in the giving sense–
Wooden Citrus Reamer, $8.50 at Williams-Sonoma
(add a bag of lemons and limes–great to take to as a gift for the hostess of a summer BBQ)
Some other gift ideas–
Wooden spoons tied with a ribbon
A jar of gourmet jams, jellies, mustard, or other condiments
Recipe cards
Homemade candy
Places to go for great gifts under $10–
*Etsy under $10–can't say enough good about it–although you may have to do some searching
*Barnes and Noble or Borders–great little cookbooks for around $10 in their clearance section, sometimes you can get really lucky (and sometimes there are some real duds)
*Crate and Barrel–great dish towels and gadgets, great sales
*IKEA–pretty much everything in their kitchen section is a great deal (downside–not really available online)
*Anthropologie–the sales are awesome and I heart anything from Anthropologie (again, in store you will find more than online)
Any other great gifts you've given or received?