Early on in my marriage, I subscribed to Everyday Food, which sadly doesn't exist anymore. I LOVED that little magazine so much. It made new ingredients and recipes feel more approachable as I was honing my kitchen skills. There was one issue that I had for years and years until it finally fell apart. I saved the pages – they are tucked away in an envelope somewhere in my closet. The other day I started thinking about one of our very favorite recipes for slice and bake cornmeal cookies that was in that issue. The cookies are lightly sweet, with most of the sweetness coming from the chopped dried fruit. They have a sandy, crisp texture that melts in your mouth like French sablés cookies. The past few years I've been making them gluten-free. Usually I make the recipe as written from the magazine, but this time I make them kind of Christmas-y by adding fresh lime zest and dried cranberries. I think these Gluten-Free Cranberry Lime Cornmeal Cookies are pretty fantastic. And of all the dozens upon dozens of times I've made them over the past decade, they are always a hit and disappear quickly.

I'm a big fan of slice and bake cookies. They are such a snap to make. I think that's one reason we made this recipe so much, especially during the holidays. It's so easy to make a double, triple, or even quadruple batch and have a few dough logs hanging out in the freezer. I've included other variations in the recipe notes below. It's hard to pick a favorite. I really love each and every variety. Lime and cranberry go so well together. It was time to make that combo happen.
Like I said, these cookies aren't very sweet. They are perfection with a cup of something hot, like tea, wassail, or even coffee. My kids love them with a glass of milk or juice. They are just a great all-around cookie. I've made them for cookie exchanges and parties. They will always be at the top of my list of holiday cookies for the simple reason that everyone loves these. Speaking of cookie exchanges…I've teamed up with a bunch of fellow gluten-free bloggers for a Virtual Cookie Exchange. There are 18 of us total. Each of us is sharing a yummy gluten-free cookie along with a fun giveaway.
Click past the jump for the recipe, plus giveaway info, and to see all of the other GF cookies. We're talking some seriously delicious GF cookies and fantastic giveaways!
I'm giving away a gluten-free baking pack so you can make these cookies! It includes my favorite gluten-free flour blend from Pamela's, GF cornmeal, GF vanilla extract, dried fruit (cherries, cranberries, and blueberries), organic sugar, and parchment paper PLUS a $50 gift card to Whole Foods! Woohoo! You're gonna want to enter, which you can every day until December 13th. The winner will be selected at random. Bonus entries are available and you can come back and enter once a day through the entry form below. The giveaway is sponsored by me and open to U.S. residents only. Good luck!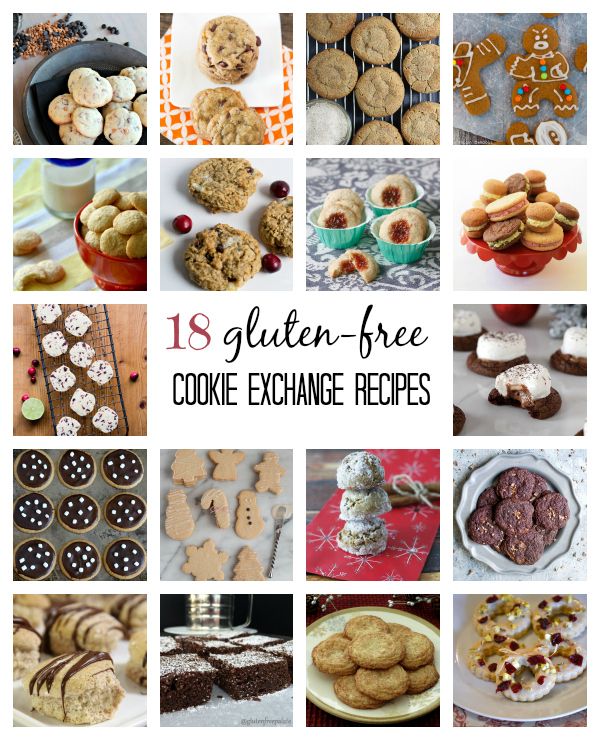 Check out all 18 recipes in our virtual gluten-free cookie exchange, listed in the order they appear in the photo, left to right, row by row, or click on each photo to go directly to the recipe: